Details

Super User

2016

Akeeba Backup




In a nutshell, Akeeba Backup Core is an open-source backup component for the Joomla! CMS, quite a bit different than its competition. Its mission is simple: create a site backup that can be restored on any Joomla!-capable server. Its possibilities: endless. It creates a full backup of your site in a single archive. The archive contains all the files, a database snapshot and an installer similar in function to the standard Joomla! installer. The backup and restore process is AJAX powered to avoid server timeouts, even with huge sites. Alternatively, you can make a backup of only your database, or only your files. If you want a reliable, easy to use, open source backup solution for your Joomla! site, try it out.

Akeeba Backup on JED
Details

Super User

1827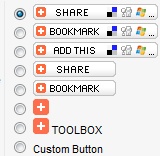 So, if you have a nice Joomla website and you would like to offer your vistors to share your articles you can install a specific extension for that. I use addthis for some sites of mine. With addthis you can set up different social sites for which you want to let your user share your content. You can download the plugin from addthisand install it your self.

* Go to https://www.addthis.com/get-addthis and click on "more options"
* Select "Joomla"
* Click on "download plugin" in the center of the page.