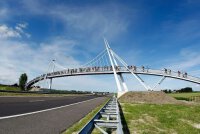 I'm following a marathon schedule since about three weeks. Yeah, I'm planning to run a marathon agina after saying "THIS NEVER AGAIN" after my first and "I've completed all my goals, no I can retire from marathons" after the second.
So, why planing a third marathan? Well, not an exact awnser but why not? The marathon I want to run is the Slachte marathon. It is in Fryslân, the province where I grew up in. Running 42km from the coast towards the small town Raerd through the meadows, just like when I started running back in the nineties. Back then grom Boalsert to Burchwert and back.
But back on topic, running and pain. At some point you think this is going great. I started from home towards Ressen and back, about 21km. Starting just before the twilight, a few degrees above 0 and almost at the end of the training you think, I'm feeling my hamstring a bit. A did a another few trainings and it went kinda OK but then came a training with my running group. 30 seconds on a slow pace, 20 at a 10km pace and 10 second fast. The slow pace was no problem, but after the 10km pace I knew I had to stop. And of course, at the far end of the training from the sports hall where we start from.
After 2 days I was at the sports masseur and I can tell you, that was a really uncomfortable massage. Uncomfortable and a bit painfull. I could feel the respond to that massage for up to 2 days, and that was correct. So after 3 days I hoped I could enjoy an training. I went on a slow pace, and kept that slow pace but after about 5km I knew this was not going well. So I ran towards home and now hoping the massage this tuesday is going te be good. #ouch